The Lloyds Register
The Association is pleased to announce the whole digitisation of the register, thanks to Lloyd's Register Group, this project is at the forerunning of advanced recording techniques…98 years of yacht design and construction in a memory stick, available to buy here.
**The Association of Yachting Historians wishes gratefully to acknowledge the kind assistance of Lloyd's Register Group Ltd in allowing the Association to scan and republish material from the annual Register of Yachts and associated publications. All the data contained on the USB memory stick remains subject to Lloyd's Register's copyright.**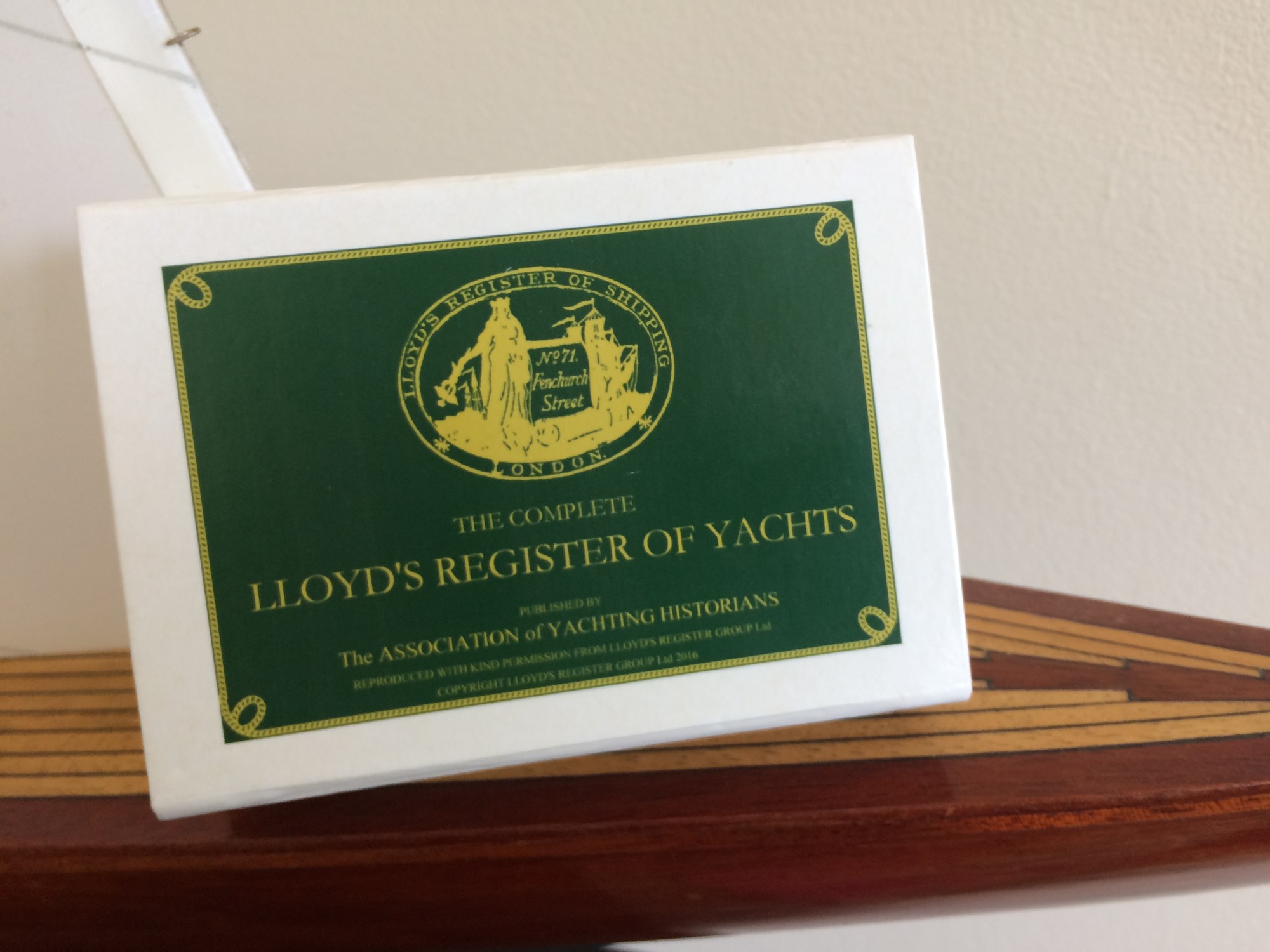 "Considerable research was undertaken to obtain the entire series of Lloyd's Register of Yachts (94 volumes), together with all the annual supplements which were published during the course of each year (some 158 supplements were issued).
No institution holds a complete set of volumes and supplements and some are quite rare so tracing the full set proved to be a long and laborious exercise.
All related material linked to the registers, such as the volumes of sail numbers and yacht flags which were occasionally published separately from the main register were also obtained.
When the main register ceased publication, a series of 18 registers of classed yachts were issued and these too have been included."
David Elliot, YHA member
A brief history of the Lloyds Register
Lloyd's Register of Yachts was published annually from 1878 to1980, except during the two World Wars. Although the amount of information on each yacht evolved over the years, in essence it provided details of construction, dimensions and ownership of most pleasure craft, as well as identifying those which had been subject to a Lloyd's survey. The annual registers were usually updated during the year by the issue of supplements. These listed new vessels, changes of ownership or recorded the fate of vessels.It was up to the owner to provide the information. Certain designers and builders as a matter of course provided the necessary details and the dimensions they gave were accurate. Data provided by owners could be less so.
Initially, it was intended that the register should contain all sailing yachts irrespective of size. In 1948 it was decided to place a lower limit of 300 square feet of sail area or 25 ft waterline for power vessels. If the vessel belonged to a subscriber then no limit applied. In 1974 the limits were increased to 350 square foot of sail area or 27 ft waterline respectively. The first volume detailed some 1,400 yachts. By 1980 the figure had risen to 12,000. The explosion in popular yachting in the 1970's meant that the Register was unable to keep all the entries up-to-date and in 1980 the decision was taken to cease publication. Subsequently, from 1981-2003, a Register of Classed Yachts was produced.
From 1910 onwards the registers listed all the international metre boat classes by country. From 1879 to 1904 some 1,600 pages provided data on American Yachts - many American yachts also appear in the later registers

Honorary Members :
Admiral Sir Jonathan Band, KCB; Rear Admiral Roy Clare, CBE; Clare Francis, MBE; Lt. Cdr. Sir Robin Knox-Johnson, CBE, RD, RNR; John Rousmaniere; Mikkel Thommessen